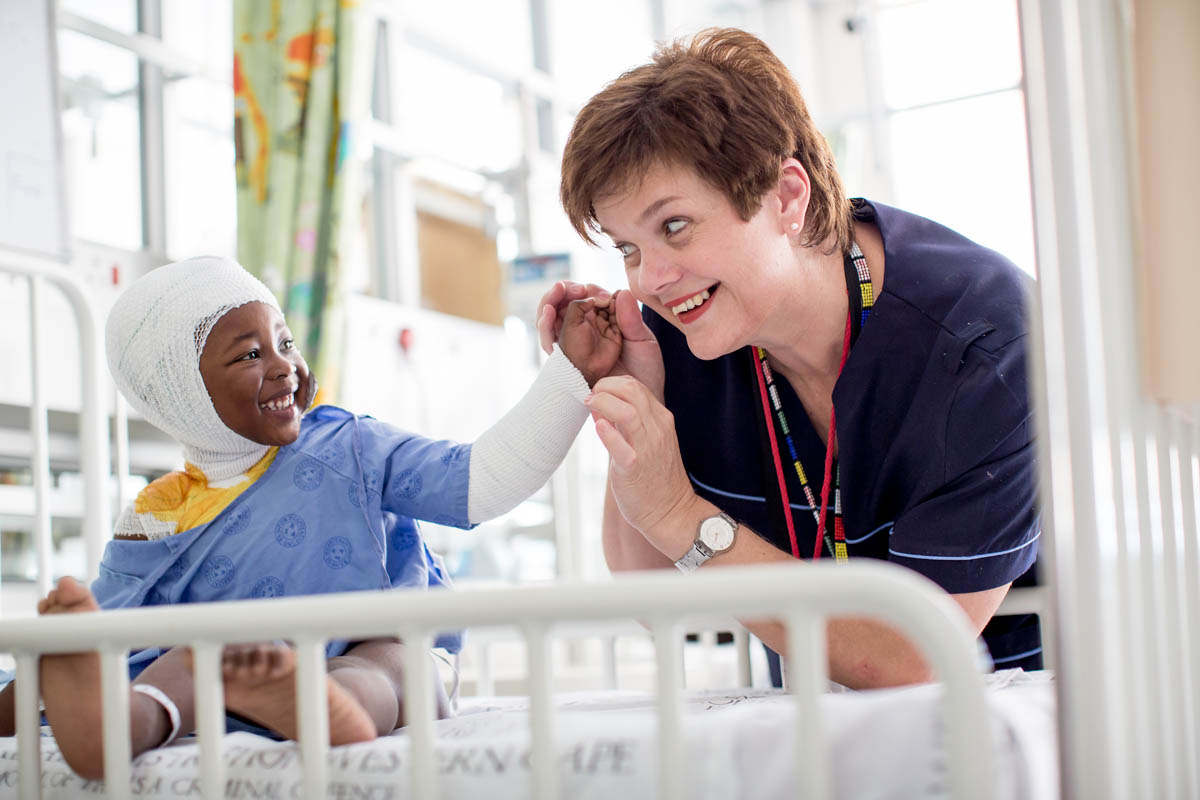 Hope rises with Dr Martinez and the Phoenix Burns Project
February 13, 2016 | By Lashara van Heerden
Dr Roux Martinez is head of the only specialised paediatric burns unit in Africa. The C2 Burns Unit (C2BU) at the Red Cross War Memorial Children's Hospital (RCWMCH), in Cape Town, South Africa treats more than 3500 children with serious burns every year. 85% of the patients admitted to the Hospital are younger than six and 98% are from disadvantaged communities. "Burns is mainly a disease of poverty", she says.
Some of the major issues faced by those living in informal settlements include overcrowding, lack of electricity and access to clean running water. "Cooking and bathing areas are the most dangerous", says Martinez, as cooking on open fires and paraffin stoves in inadequate spaces exposes children to hot liquids on reachable boxes and low tables. Inadequate child care when parents go to work can also lead to fatal accidents. According to Professor Heinz Rode, "it is estimated that over a million patients are burned annually on the African continent."
For Martinez a driving force for her inspiration and dedication is Rode. With a list of qualifications behind his name Professor Heinz Rode is regarded as the leading academic and practical burns surgeon in South Africa. He has also won many international awards for outstanding services to burns children.
Martinez was trained by Rode in 2003, "he is probably the world's most renowned burn surgeon", she says. Long retired, he still works a full week. He is known to "crack the whip" and has over 40 years' experience. Martinez describes him as "a walking Burns textbook", he has treated a remarkable 50 000 burn patients. "Professor Rode has the ability to create a wonder and excitement around burns. He empowers us with a questioning mind and technical surgical excellence. His leadership has made this unit the Flagship unit in Africa. You will find him, scalpel in hand, in the front line, with his team behind him!" says Martinez a prominent member of his team for over 10 years.
Martinez originally worked in adult burns, but when she started doing paediatric burns; she explained it was an instantaneous, effortless joy, and interest. "I love dealing with the longer term patient, where relationships are built with both the child and the supporting parent", she says.
As a mother and a compassionate professional she explains, "For every heart break patient, there are about 500 children who simply thrive and get better to continue with life. That is a lot of joy! The children, who are recovering, truly enjoy the sense of wellbeing. It gives the staff much joy to see the children running, singing, dancing and playing with a sparkle in previously dull eyes!"
Fuelled by her passion to further support burns victims the emergence of the Phoenix Burns Project (PBP) in Cape Town was born. Martinez started the non-profit organisation and together with dedicated volunteers it allows them to give children a second chance at childhood.
PBP assist burn survivors with rehabilitation and social re-integration. The project works together with the public to promote awareness and educate on the prevention of burn injuries, as well as campaigns for the rights of burn survivors. Martinez believes that education is instrumental in prevention. She quoted "our beloved" Nelson Mandela for once saying: "Education is the most powerful weapon which you can use to change the world".
"It was started not only to teach prevention, but to form a safety net for burn survivors when they leave hospital. Many severely burnt children suffer teasing and discrimination and drop out of school to start a life of hiding away in shacks and homes. Think about it – we treat over a 1000 burns a year, and yet, when did you last see one in public?"
"The tenacity and survival instincts of children are profound and they never ask "why me, why now?" like us adults do. They simply get on with it and that is a miracle one never tires of witnessing". This is why "we are always trying to see where we can get better and then strive towards excellence", says Martinez. This is where she finds the strength to keep doing what she does, because she loves what she does.
"Remember, the most beautiful situations can be found in the harshest of places! And if you want to see the beautiful side of humans – courage, bravery, hopefulness, endurance, understanding, humility, and humour – a burn unit is the place to go", says Martinez.