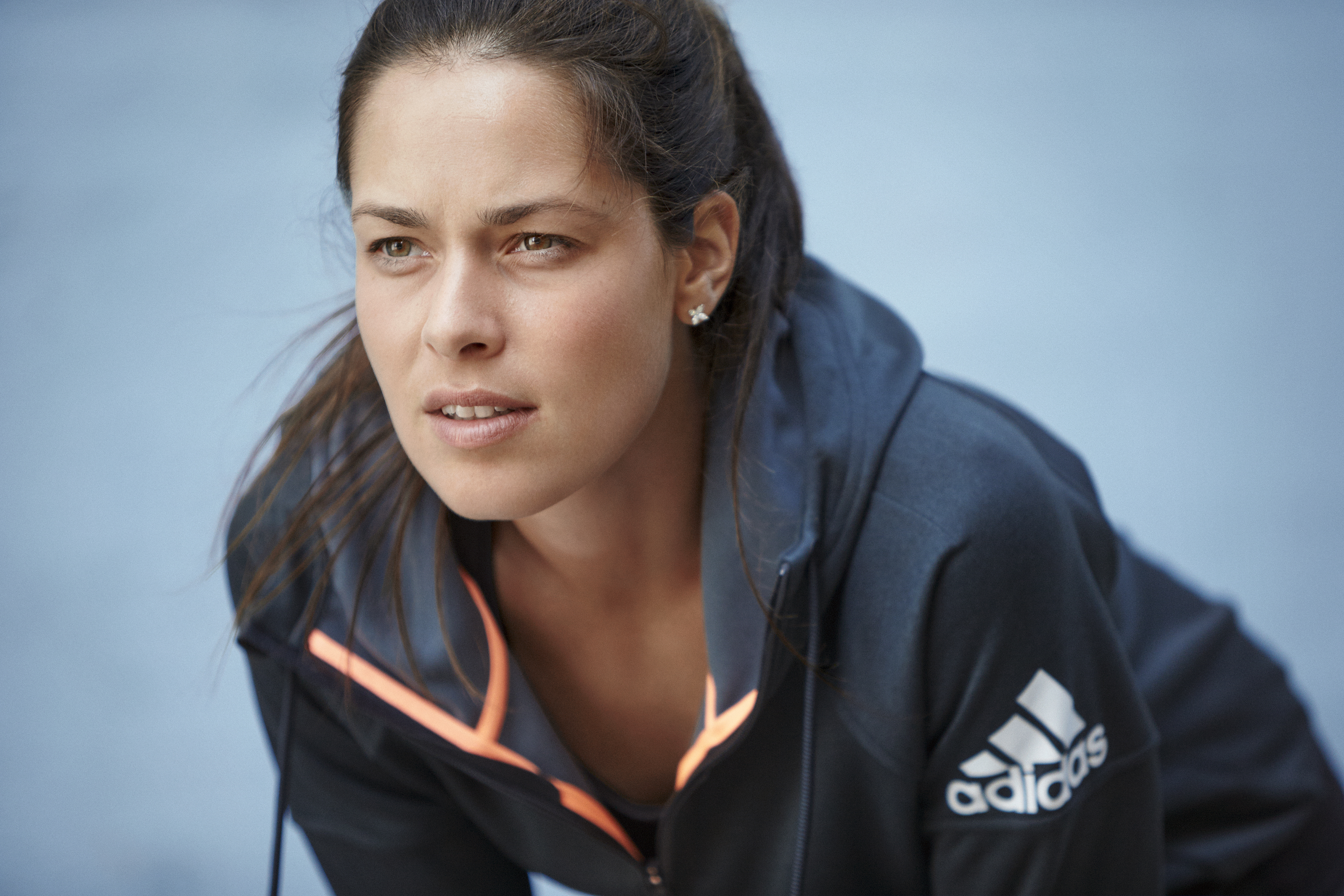 A girl's dream becomes a woman's success: Ana Ivanovic on overcoming adversity & empowering others.
March 8, 2016 | By Lashara van Heerden
We are celebrating our Ambassador, Ana Ivanovic, as our female icon for International Women's Day.
Ivanovic is driven by her hunger to be successful in all she endeavours to do, she has a clear focus, a strong forehand and an impressive style on court. This has given her an edge that has led to multiple successes.
To date she has achieved 15 Women's Tennis Association (WTA) Singles Titles and five International Tennis Federation (ITF) Women's Circuit Singles Titles. "Winning the French Open and becoming No.1 in the world, back in 2008, is definitely the highlight of my career so far. Achieving those two goals is something I dreamed of since I was a kid, and it's something that I will always look back on with great pride and enjoyment", she says.
Not only does Ivanovic work hard to triumph in her professional career, she also strives to promote humanitarian concerns surrounding children.
Ivanovic is no stranger to overcoming adverse conditions. Born in Serbia, she lived through the bombing campaign against, the then, Republic of Yugoslavia during the Kosovo War. "These circumstances shaped me and made me the player I am today, and developed my perseverance.
"At that time, there were so few tennis facilities in Serbia, so I had to practice inside an empty swimming pool", explains Ivanovic.
Her unconditional will to succeed coupled with her undying passion for tennis meant she was able to adapt, find solutions and ultimately triumph. "This is how we are able to overcome our challenges and reach our goals.
"The Serbian mentality is very determined; we are aware that you have to work hard to achieve something. That's the mindset that has shaped me as a player more than anything else. I never gave up and was lucky enough to have met people who helped me. I worked hard and kept pushing myself", she says.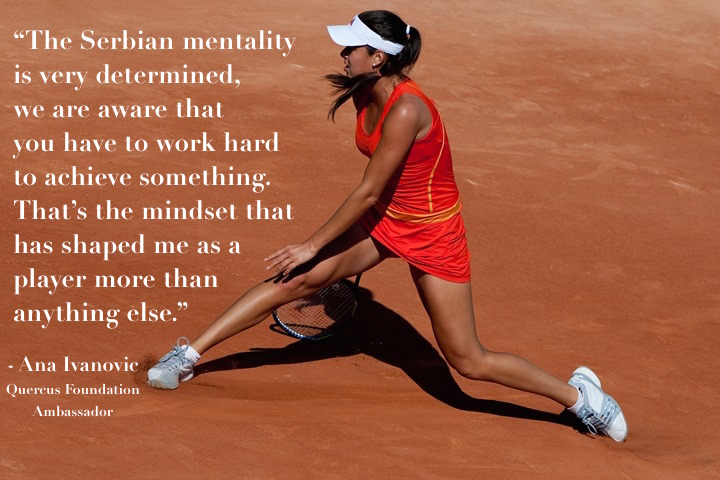 "When I think of Serbia I think of my happy and well balanced childhood surrounded by family and friends". Ivanovic goes on to explain that the most important people in her life are her mother, father and brother. "I was brought up with traditional values and had great support amongst my family members".
At the age of four Ivanovic's passion for tennis was ignited after watching a match with Monica Seles, a fellow Yugoslavian and a "big hero" back in the day.
"I really fell in love with the game immediately", she recalls. After memorising the number of a local tennis school advertised during the commercial break, Ivanovic kept asking her mother to take her, because "it looked like so much fun". Eventually "after maybe a month of asking, I had my first tennis lesson.
"For my fifth birthday my father gave me my first racket – that was one of the happiest moments of my life. I still have that racket at home, somewhere in the cupboard.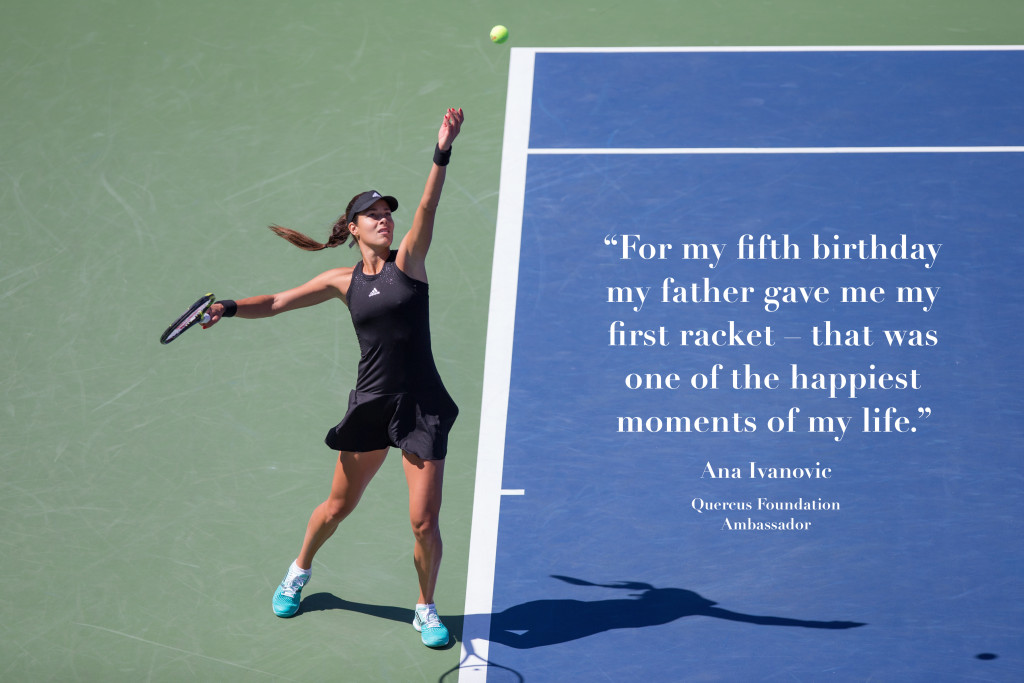 Another role model during her career, was one of Ivanovic's "best coaches" who's good advice has had a lasting effect, he said: "Don't allow your losses to become defeats". Ivanovic succeeded by never allowing her failings to deter her. She grew through times of stress and adversity, and developed into the woman she is today.
"I had a dream which I held onto and now that I have the power to inspire, it's my turn to help pave the way for children, for a better future. I love spending time with them – it was a natural choice for me to be involved in children's causes.
"It was a great honour for me to become the Ambassador for Quercus Foundation in 2015. The organisation focuses on health, education and infrastructure. They identify and invest in projects that improve the lives of children and young people living in extreme poverty.
"This is a cause that is very close to my heart and I know only too well from my own experience as a child growing up in Serbia how important it is for children to have a dream. By their very nature children are vulnerable and innocent, they need us as adults to do all we can to protect them and ensure that they're happy and safe", she says.
Ana Ivanovic embodies a determination that has empowered her to be a modern sports icon for women all over the world. She is a female role model worth celebrating this International Women's Day and we couldn't be more proud of our ambassador.