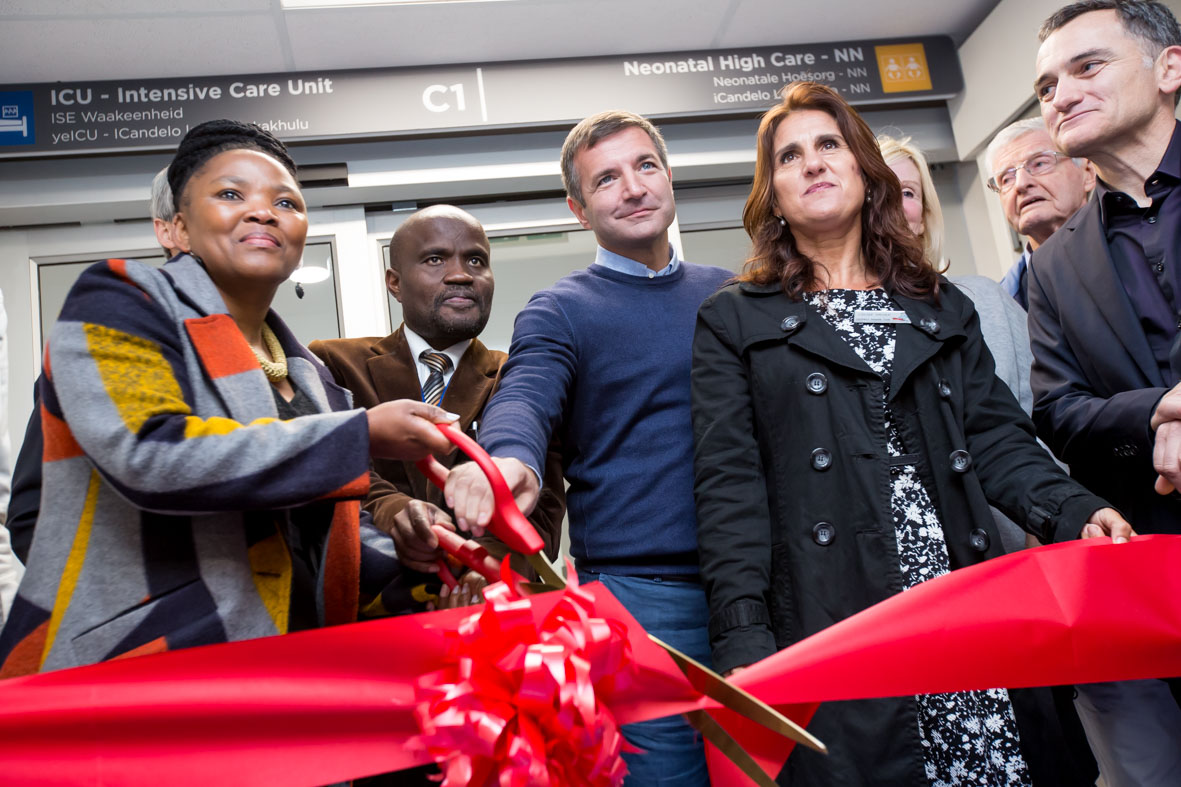 PICU Official opening at the RCWMCH
November 9, 2017 | By Toni Calliva
On the 26th October 2017, Quercus Foundation helped open the R100 million (£5.369 million), Paediatric Intensive Care Unit (PICU) for critically ill and injured children from South Africa and the rest of the African continent. Diego Biasi, Founder of the Quercus Foundation attended the ribbon-cutting ceremony to mark the official opening of the unit on the back of a fundraising initiative led by the Children's Hospital Trust.
Located in the Red Cross War Memorial Children's Hospital in Cape Town, the new PICU consists of 39-bed spaces and is one of the largest units of its kind in the continent, providing much needed capacity to treat increasing numbers of ailing children. Taking two years to complete construction, the new unit includes a 10-bed neonatal unit as well as isolation cubicles controlling the risk of infections, which is critical in ICU.
In any given month, over 115 children from all over Africa come to the hospital for treatment, increasing to just under 150 during peak months. This unit will help reduce the mortality rate of children.  According to Andrew Argent, Medical Director of the PICU, the under-five mortality rate significantly improves with the right paediatric care. In 2015, the Institute of Race Relations (IRR) made the following finding in its latest South African Survey, they found that the under-five mortality rate had declined from 77.2 deaths per 1,000 live births in 2002 to 45.1 deaths per 1,000 live births in 2015. Mr Argent believes this rate falls to below 30 per 1,000 live births with quality paediatric care. Although these figures are encouraging, South Africa still has a high infant mortality rate, especially compared to other emerging markets and the developed world. Data from the World Bank shows that the under-five mortality rate in Germany for example was 3.9 deaths for every 1 000 live births.
Major causes of death among infants and children in South Africa are pneumonia, diarrhoea, birth trauma and asphyxia, vaccine-preventable diseases, malaria (in some areas), malnutrition and HIV and AIDS. "Many of the children who are admitted to the ICU would have died if they did not have access to the (specialised treatments of the) Red Cross Children's Hospital," Mr Argent explains.
The expansion and upgrade will also create more comfortable and supportive spaces for parents as well as breastfeeding mothers. Previously, family members had no privacy or space between life-saving equipment as they sat vigil at their child's side. Increased space will also mean that staff, who work long hours saving lives in tough conditions, will have adequate support facilities. "Over the last few years, South Africa has shown progressive improvement. While it is not to the level that you would expect with our resources, it is most certainly an improvement," says Professor Argent.
As part of the fundraising, Quercus Foundation has committed to raising R10 million (£536,938.00), with other donors also contributing to the total R100 million fund.
Commenting on the opening of PICU, Diego said: "We are proud to have helped raise money for this great initiative and to open a paediatric unit that will increase capability to help save children's lives. At least 50 children a year have had scheduled surgeries cancelled due to inadequate space. This unit will ensure this no longer happens. I would like to thank everyone for their generous donations, without which this project could not have occurred. The Quercus Foundation is committed to helping give children a future."
2015 3D AERIAL VIEW OF THE HOSPITAL PROJECT: CONSTRUCTION UNDERWAY.
3D AERIAL VIEW OF THE HOSPITAL PROJECT: REFLECTING NEW AND REDEVELOPED SECTIONS.
2017 3D AERIAL VIEW OF THE HOSPITAL PROJECT: CONSTRUCTION COMPLETE.
The RCWMCH was built in 1956 but remains the cornerstone of child healthcare in South Africa. With over 1,7 million children in the Western Cape, the number of cases referred to the hospital has increased dramatically in the last decade, as has the corresponding number and complexity of paediatric intensive care cases. After 2 years of construction, a newly upgraded, expanded and equipped PICU can now care for more than 1500 children a year. The R100 million-plus project has significantly improved the intensive care services delivered to critically ill and injured children and capacity has been greatly increased, addressing the desperate need for more beds to treat some of the continent's sickest little patients.
It is with sincere thanks to all the individuals and firms who have worked with us over the past 2 years. Together we achieved a huge amount. We've helped save lives and bring smiles to families faces. Your support in helping us raise awareness and funds has contributed significantly towards the success of this incredibly worthwhile initiative.