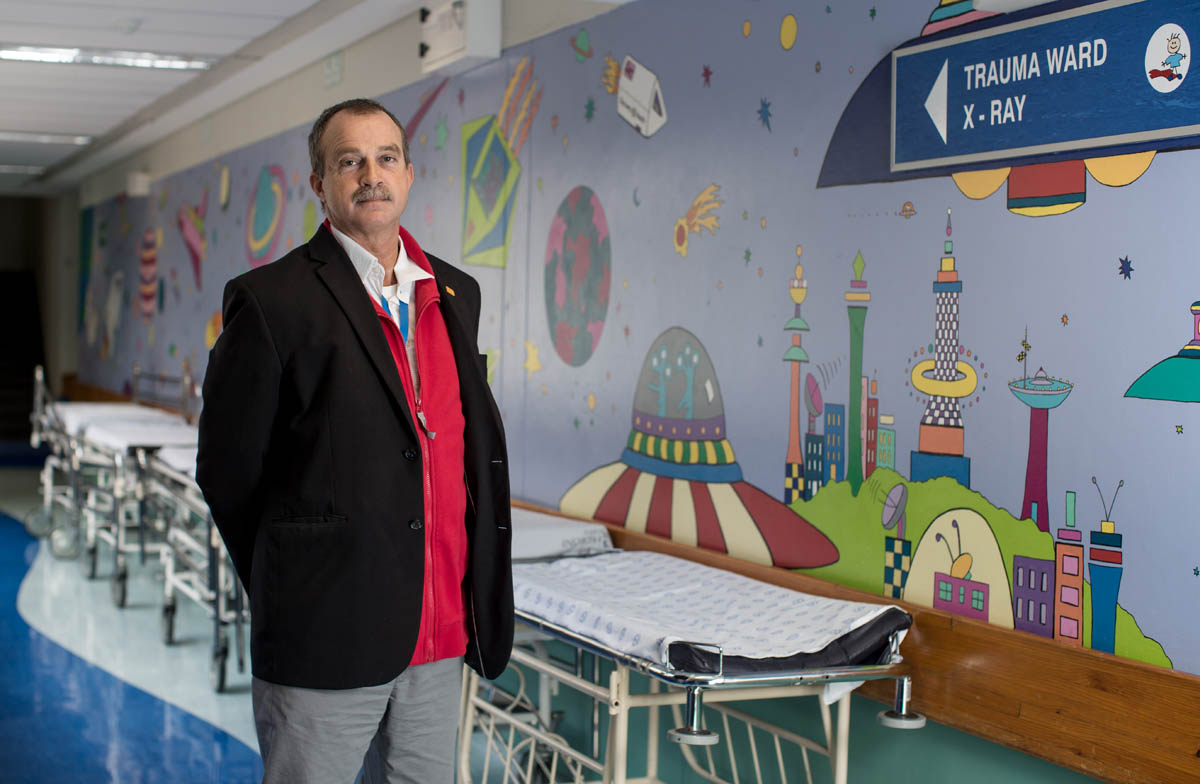 Meet the extraordinary Trauma Professor championing child safety through research, education and advocacy.
January 19, 2017 | By Toni Calliva
The traditional African proverb, "It takes a village to raise a child" has been widely quoted when looking at the extended partnerships required during the healthy development of our youth. That "village" has never been more necessary than it is today and having Prof. Van As as chief of the child safety movement in Cape Town is making all the difference. We talk to him and find out more about some of the major challenges South African youth currently face and how they are being supported.
Prof. Van As was born and educated in Rotterdam, Holland where he trained in Surgery between 1980 and 1990. His medical journey started in Africa where he was one of three doctors serving 1500 beds at the Gelukspan Hospital on the border of Botswana. He then moved to South Africa and spend 10 years working at Groote Schuur hospital, famous for the likes of Doctor Chris Barnard (South African cardiac surgeon who performed the world's first successful human-to-human heart transplant). Prof. Van As made his final move to South Africa's first and only dedicated paediatric trauma centre at the Red Cross War Memorial Children's Hospital (RCWMCH), where he has now spent almost 20 years working with children.
"Most mortality takes place in very small children, neonates and children under the age of one. However, once a child reaches the age of one, from his first birthday to his 18th birthday, the chance of death from injury is greater than any other disease, therefore trauma is a very important component of child health." explains the Professor. "We collaborate very closely with the World Health Organisation (WHO) and we feed a lot of data to them. The most common injuries we treat are from road traffic crashes, drowning and burns but the main issue is road traffic crashes, they are a true disaster for this country." he says,  -"They kill over 17 thousand people every year – that is 47 people each and every day, and a big part of them are children. We recently saw as many as 19 injured children from road traffic crashes admitted over just 1 weekend, all young kids and the disappointing fact is that most cases were completely preventable."
One of the biggest challenges Prof. Van As faces in his work today is making people more aware of what is going on in order to effectively prevent it from happening in the first place. "We have to look at upstream factors." he explains, "Why are kids coming to the ICU? What can we do prevent to them going to the ICU?"
"The children we see in hospital are usually pedestrians, small children, who are often left by themselves and they get run over by cars, or children in cars who haven't been properly restrained, meaning that when the car comes to a sudden stand-still, the child will be flung out of the car." explains the Professor. According to South African law, (since the 30 April 2015) all children now need to be restrained but the Trauma unit still sees on average 200-300 children (per year) that have not restrained.
"There is nothing that makes me so sore than when people are blessed with children and they're not providing them with the care they deserve because these poor kids end up being the real victims, they land up being burnt or run over by cars and have terrible injuries. It's up to society to look after them."
Prof. van As, points out that "Children under the age of six are the most vulnerable. They are completely dependent on caretakers and adults to look after them as they are neuro-development-ally immature. A toddler in the middle of the road cannot calculate how fast a bus or a truck is coming towards them and that if he doesn't get out the way he will get run over – his brain is unable to do that, so no child under the age of six should ever be left alone." he says.
Prof. Van As believes that poverty and the inequality of society plays a huge role.  A few years ago, figures found that around 83 percent of all the children admitted to the Trauma unit (often run over by a car) were from partially informal settlements areas such as Philippi and Khayelitsha.  Around 70% of Khayelitsha's residents still live in shacks and one in three people have to walk 200 meters or further to access water. 89% of households in Khayelitsha are either moderately or severely food insecure. Around 53% of Khayelitsha's total working age population is employed. The five most common forms of employment are domestic work  (19.4%), service work (15.2%), skilled manual labour (15.2%), unskilled manual labour (11%), and security services (10.4%).
"Parents or caretakers of children in these communities are often in low paying jobs and the demographic is such that there are a lot of children with a small amount of adults who have to leave early in the morning at five or six o'clock and they come home late in the evening. When the child comes back from school there are no adults to look after them, so you will see a lot of very young children, especially under the age of six who are not being adequately taken care of, they need guidance, as they cannot fend for themselves. This is a very important component of so much trauma." explains Prof. Van As.
"There are no playgrounds within these informal settlements meaning children have to play in the streets. Many roads have no pavements and people who are driving to make a living  and transporting customers often drive up and down very fast."
"When people ask me what I do I usually tell them two things. Firstly, that I run the Trauma Unit at the RCWMCH but that I am also chair for "Childsafe South Africa" (www.childsafe.org.za)." Prof. Van As explains that research, education and advocacy are assisting in reducing injuries of all severity. They form the cornerstone in the preventative work Childsafe South Africa undertakes.
Research:
Since 1991, Childsafe South Africa has systematically kept a computerised database of all injured children presented to the RCWMCH Trauma Unit. The number of children seen annually approximate 10 000 children. It has existed for 25 years and presently there are over 170 000 childhood injuries recorded in their database, making it the biggest single-centre database on child trauma in the world.
The database serves the purpose of a national surveillance system on childhood injuries in South Africa and is regarded as the major resource regarding childhood injuries in the country by national and international organisations, non-governmental as well as governmental institutions. Volunteers enter the data which can be extracted to write reports. At least a hundred scientific articles and reports on paediatric trauma have been published, such as the Child Gauge 2015 report which Prof. Van As wrote a part of.
Educating medical students:
"Running the Trauma Unit entails that part of my work will be for University and part of it is service delivery for the Province, so from the Provincial service point of view I am responsible for all the children who are admitted to the Trauma Unit. For the University part, I perform scientific research and am intricately involved in the education of medical students – undergraduate (students who are becoming doctors) as well as post-graduate (qualified medical doctors that are on their way to specialisation, either in surgery, medical emergency, orthopaedic surgery or paediatric surgery)." explains Prof Van As.
"I prefer to promote a more holistic approach of looking at Trauma, so not only do we teach students on the ward rounds by showing them cases, but we also try to get them involved in analysing the database. So for instance, getting them to look at motorcar crashes, what are the reasons, where do they come from, spatially mapping out exactly where the accidents happen and where the children are dying whilst compensating for traffic levels and population numbers."
Educating and incentivising the public:
This research, for example, indicated that many crashes or accidents were happening with school buses; therefore Childsafe developed the 'Safe travel to school' project where it installed trackers into school buses in order to monitor the quality of driving. This worked so well that we decided to expand to programme to include taxi drivers. "As always, in the beginning it was very difficult. The taxi drivers didn't want to be monitored because it makes them accountable but after looking at ways to incentivise the drivers, we found the programme became hugely successful."
"We hold an awards ceremony" says the Professor, "All the enrolled drivers attend and we present cash prizes to the best driver and the most improved driver every three months. The best driver for the whole year gets his own brand new Minibus! Most taxi drivers don't own their own car so this becomes a great opportunity for them to start their own business. It is so popular that we find more and more drivers enrol."
"The programme also enabled us to identify and resolve other issues such as ensuring that cars were road worthy, making sure safety belts worked, supporting drivers that actually needed spectacles. It's now the third year we are running and we have proven that people on this programme drive better. It's a great success." says Van As.
Advocacy:
In addition to all the successful projects that Childsafe South Africa run, it also participates wherever possible in campaigns and lobbies around issues of child rights and injury prevention as they arise and become relevant.
So what drives this passionate Professor?
"What drives me? Now that is a difficult one." he says, "I think deep down what drives me is that I am in favour of a more equal society. I think that is the bottom line. It has been clearly shown that a child health is not related to the amount of money you spend, but that it is related to the equality of a society. I think that is what I try to work towards, and a society in which all children are equally cared for."